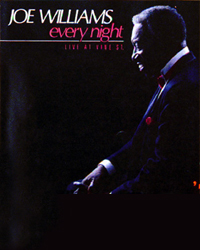 Project Details
Released
1987
Production Company
Polygram/Verve
Project Details
The Vine St. Bar and Grill was one of the premier jazz rooms in LA from the early 1980's through the 1990's. Night after night, the top jazz performers of the day held court in this small supper club, exciting audiences with their virtuosity and talent. Miriam's band, Swingstreet, was the first live music to be featured at the club, and after two years of playing four nights a week, she suggested to owner, Ron Berinstein, that he book some other performers. Ron agreed and suggested Miriam book the club. It started with Etta James and Mose Allison, and over the years included everyone from Big Joe Turner, Little Esther, Phil Woods, George Shearing, Annie Ross, Eartha Kitt, Johnny Otis Show, Betty Carter, Benny Carter, Etta Jones and Houston Persons, John Hendricks, Richie Cole, Dizzie Gillespie, Billy Eckstein, Alan Broadbent, Linda Hopkins, Paquito de Rivera, Astrid Gilberto, and on, and on.
In the late 1980's, Ron was approached by PolyGram/Verve to produce a series of live to digital two track albums from the Vine St. Bar and Grill. This was just at the dawn of the digital age of recording, and Capitol Records brought down one inch video machines to record the live performances. Edited digitally at Capitol, the albums were released simultaneously on vinyl and CD.
Hemisphere Productions for PolyGram/Verve Records

Executive Produced by Ron Berinstein,

Co-Produced by Miriam Cutler, David Kreisberg

Engineered by David Kreisberg
PolyGram Jazz Series Based At Vine St. Nitery by Henry Schipper, Variety 1987

"Live jazz vocals will be the focus of a record deal between the Vine St. Bar & Grill, Hollywood nitery, and PolyGram Records, with the diskery agreeing to carry a "Live At Vine St." series beginning next year. Series will be issued on PolyGram's prestigious Verve label.
.....PolyGram jazz exec added that the Vine St. pact marks "a reactivation of the historic Verve label with regard to new recordings. Verve, founded in 1956 by jazz impresario/ producer Norman Granz and purchased by PolyGram n 1972, has been dormant since the early 1970's. 'Live At Vine St.' series will be produced by Berinstein's Hemisphere Prods, with Berinstein as executive and co-producer. Other coproducers on selected projects will be David Kreisberg and Miriam Cutler, both of whom worked on the Simone and Shaw LP's.
A Horn Album At Last by Leonard Feather, LA Times
"I Thought About You - Shirley Horn Live at Vine St" At last, the great lady from DC has her own CD - in fact, her first major label album in 20 years thanks to record producers who can see beyond their cash registers. It is ironic that after all those years based in
Washington DC (and after numerous appearances in New York) she had to go to Hollywood to land this superlative live recording".
USA Today- The Listening Room - Hot Jazz LPS: It Is Love, Marlena Shaw
"The return of the Verve label to jazz brings us the remarkable vocal stylings of Marlena Shaw. Her phrasing is impeccable and the excitement of the live concert from Vine Street (an LA club) jumps out at you"
Jeff Gehringer, KKGO (105 FM)
-Billboard Recommended: Marlena Shaw/It Is Love
"Stand-up singer does a stand-up job on this live collection made up mostly of standards. Good working trio of Paul Humphrey provides proper support".
Joe Williams/In Good Company
Grammy nomination Best Jazz Vocal Performance - Male
Joe Williams/Everynight
Grammy nomination Best Jazz Vocal Performance - Male